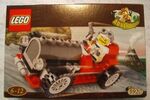 5920 Island Racer is a
Dino Island
Set released in 2000. This is Sam Sinister's (A.K.A. Lord Sinister) Personal Vehicle to drive around Dino Island.
Minifigures
Edit
Sam Sinister (A.K.A. Lord Sinister) (Evil)
The car appears in the video game LEGO Racers 2 as the vehicle of Sam Sinister, the boss of Dino Island. It has a powerful engine and allows Sinister to leave oil slicks behind for the player to slip on.
The Racer also appears in the 2001 game 5774 LEGO Island 2: The Brickster's Revenge on LEGO Island and Adventurers Island.