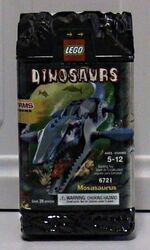 6721 Mosasaurus is a
Dinosaurs
Set released in 2001. The set included 26 pieces and cost $10.00.
Mosasaurus (which means "lizard of the Meuse River") was a large genus of Mosasaur from prehistory, measuring 48 feet long.
Variations
Edit
The Mosasaurus can also be built into a:
Dimetrodon
Iguanodon
Postosuchus
(All possible builds can't be built at the same time)
The Tongue is actually a Red Crocodile Head.