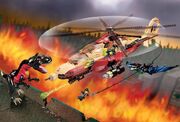 7477 T-1 Typhoon vs. T-Rex was a LEGO Dino Attack set released in 2005. The set was only available to people in the US, Australlia, and Japan. It included 1 Red T-Rex, 1 Pterodactyl and the entire Dino Attack team. The set cost $69.99, and included 605 pieces.
XL-4 Voltaic Launcher
Plarxx Radar Ray
Twin Quintronic Beam Emitters
Twin Sonic Screamers
LEGO.com Description
Edit
The ultimate dinosaur can only be stopped by the ultimate machine! The T-1 Typhoon is equipped with an XL-4 Voltaic Launcher with firing action, a Plarxx Radar Ray, twin Quintronic Beam Emitters, twin Sonic Screamers, dual cockpits, working boom crane, and much more! Viper, Digger, Specs and Shadow fly the high-tech copter against the mighty T-Rex, with light-up eyes and mouth and real chomping action! This powerful dinosaur is more than a match for any machine, plus it has a savage pteranodon on its side. Includes Viper, Digger, Specs, Shadow, T-Rex and Pteranodon figures. Ages 8+.