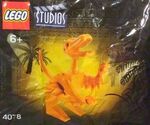 4078 T-Rex is a Promotional Studios/Jurassic Park 3 set released in 2001. It includes 18 pieces to build the T-Rex.
T-Rex have very short arms, but this one has long arms and a tiny head.
Strangely, they made a Mini-T-Rex, when this one should have been called that, because of its size.
This set resembles a raptor rather than a T-Rex.