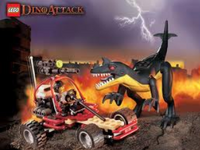 7474 Urban Avenger vs. Raptor or Dino Buggy Chaser was a LEGO Dino Attack set released in 2005. This set was only buyable in the US. It included 1 Raptor, 1 Minifigure; Shadow, who is driving the Buggy. It also included the Urban Avenger. The set cost $9.99 and had 87 pieces. The Raptor is very inaccurate in this set, Raptors in real size are very much smaller. The tail is also inaccurate.
Ad blocker interference detected!
Wikia is a free-to-use site that makes money from advertising. We have a modified experience for viewers using ad blockers

Wikia is not accessible if you've made further modifications. Remove the custom ad blocker rule(s) and the page will load as expected.